Future Champions 2023-24
Skate Canada PEI is pleased to again offer a provincial training opportunity for STARskaters.
Our goal is to expose interested STARskaters to additional programing and other skaters from across the Section. THERE ARE NO AGE RESTRICTIONS TO ATTEND THESE SESSIONS.
We are offering two groups with six sessions for each.
Group 1 – Working on STAR 1 freeskate to STAR 4 freeskate.

Group 2 – Working on STAR 5 freeskate or above.
We are offering six sessions for each group throughout the season, provided weather does not prevent this, all at Kensington Credit Union Centre, on ice at 10:00 to 11:00am:
Group 1:
November 5

November 26

December 10

January 28

February 11

February 25
Group 2:
October 29

November 12

December 3

January 7

February 4

February 18
Skaters should do their own off ice warmup before the session starts. The training sessions will consist of a one hour on ice session in a group instruction environment. Please come prepared with sneakers for your warm up and cool down as well as layers of warm clothing. Cindy Stavert will lead the sessions. Should numbers warrant, we will seek an additional coach.
Deadline for applications is October 23, 2023.
The fee this season is $140.00. Please register through Uplifter.
For Inquiries: contact Elizabeth MacKay: Elizemackay62@gmail.com
Skate Canada PEI reserves the right to cancel, combine or reduce the sessions if there is insufficient interest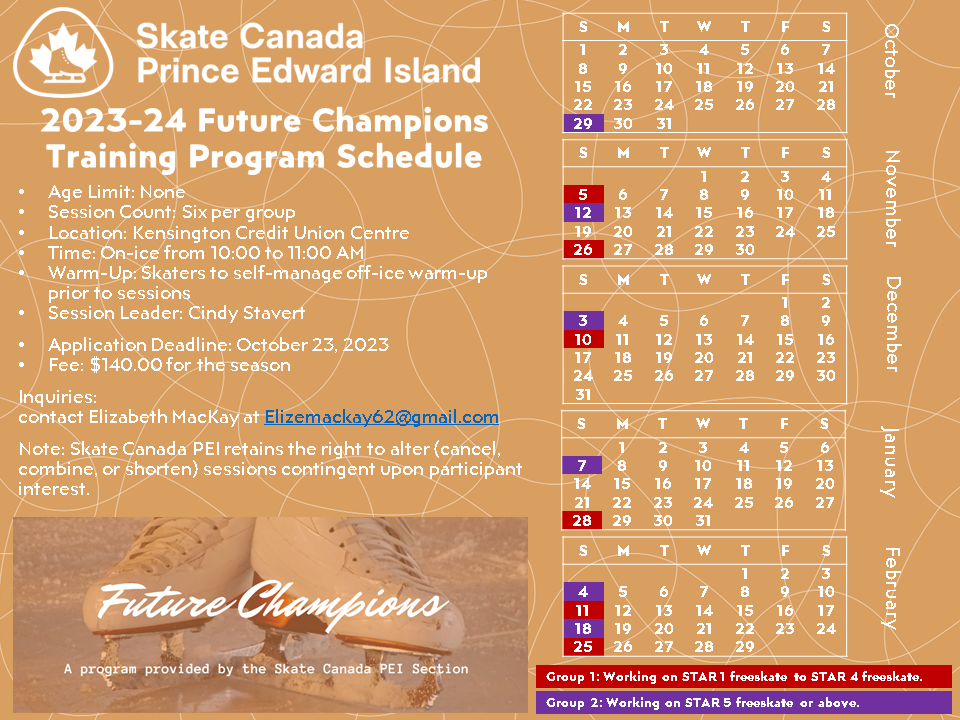 Funding Partners