News
SKATE CANADA PEI VESTS AND JACKETS AVAILABLE NOW!
posted Feb 18, 2019, 1:37 PM
Skate Canada PEI will be taking orders for branded black jackets (youth & adult sizes) and black vests (adult sizes) until March 7, 2019.
Opportunities to try some sizes will be available at the ADL competition, February 23 (Kensington) from 11am-12:30pm and at the Synchronized Skating Competition, March 3 (Summerside) - time TBC.
VESTS: available in adult sizing only (not youth sizes) and are $55.00 each

JACKETS: available in youth and adult sizes and are $85.00 each

Orders and payment must be received by Thursday, March 7th through an online account (cheques are accepted).
For more information, please view the poster
2019 ADL SCHEDULE NOW AVAILABLE
posted Feb 15, 2019, 7:03 AM
2019 ADL Schedule is now available. Start Orders will be posted shortly.

TEAM PEI FIGURE SKATING TEAM HEADING TO THE CANADA WINTER GAMES
posted Jan 16, 2019, 8:20 PM
Emma Hynes from the Summerside Skating Club and Katie Stavert-Bernard of Kensington and Area Figure Skating Club earned their Canada Winter Games Team PEI spots based on their results at Skate Canada Sectionals held in early November 2018 in Amherst. They are both entered in Pre-Novice Women category. The team alternate is Kaitlyn Smith, also of Summerside Club.
Hynes was the lone PEI entry in Pre-Novice Women at the national 2018 Challenge event held in early December in Edmonton. With close to 60 skaters competing in her event, it was a great opportunity to test her skills against Canada's top skaters in her age and skill level. In the long program, Hynes had a solid skate with no major deductions for a total of 36.56, exceeding her score from 2018 Fall Skate in Bathurst and just 4 points short of her personal best.
These Team PEI members have attended monthly training days on the Island as well as events, including a National Performance Seminar in Amherst and will soon attend the Robert McCall Memorial Competition in Dartmouth Nova Scotia the first weekend of February.

They will be joined by coaches Krista MacKay and Cindy Stavert, with Team Manager Elizabeth MacKay.
Good luck ladies and enjoy Week 2 of the Canada Winter Games!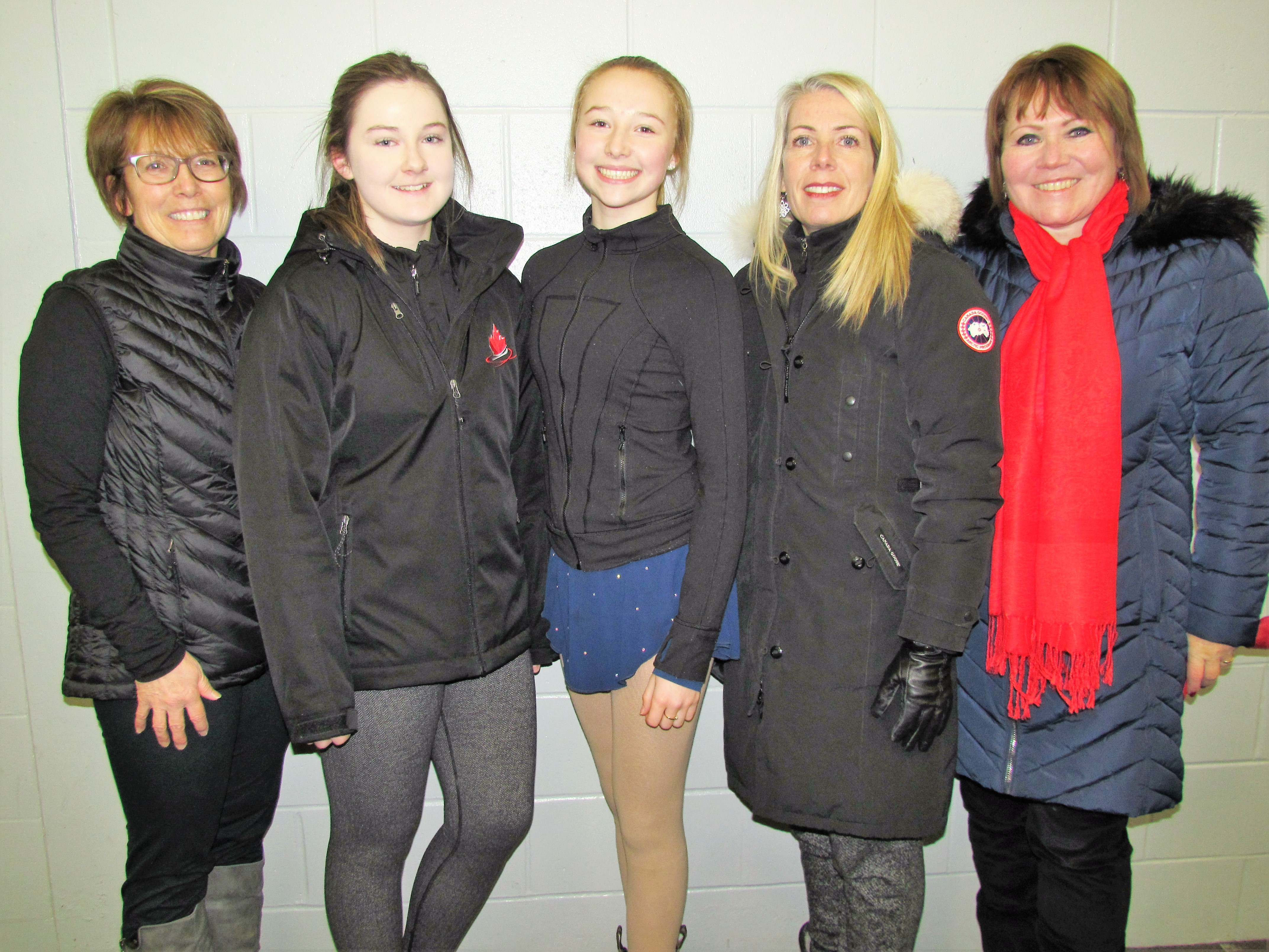 L-R: Cindy, Emma, Katie, Krista, Elizabeth