News
FALL CAMP SEMINAR SERIES
posted Oct 26, 2019, 10:45 PM
Fall camp seminar series will take place on Friday, December 6 (PD day) at Evangeline Recreation Centre and Saturday, December 7 in Charlottetown (multiple locations).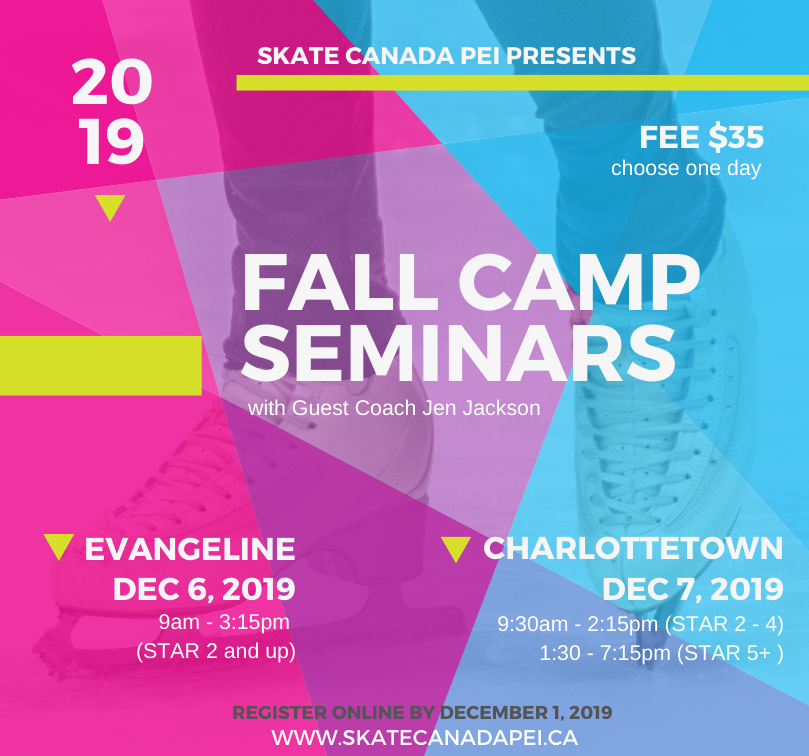 FUTURE CHAMPIONS TRAINING PROGRAM 2019-2020
posted Oct 23, 2019, 2:54 PM
Skate Canada PEI is pleased to offer again this season a training opportunity for potential future competitive skaters.
Our goal is to identify and begin training young talented skaters who may be eligible for the 2023 Canada Winter Games. To be eligible for this training opportunity, skaters must have been born July 1, 2005 or later and have currently completed the complete STAR 4 Free Skate test OR have been born July 1, 2006 or later and have completed the complete STAR 2 Free Skate Test. Skaters should be interested in competing in Pre-Juvenile or Juvenile next season at Sectionals. Skaters currently competing in Pre-Juvenile, Juvenile, Pre-Novice or Novice are also invited to attend.
We are offering five sessions throughout the season as follows:
December 1 – Evangeline 10:45 – 12:15
December 15 – Evangeline 10:45 – 12:15
January 19 – Slemon Park 9:00 – 10:30
February 2 – Slemon Park 9:00 – 10:30
March 8 – Slemon Park 9:00 – 10:30
Training sessions will begin with an off-ice warmup then move to the ice for a one hour free skating session in a group instruction environment. Please come prepared with sneakers and a skipping rope. Coach Julie McNeill will be running the sessions. Should numbers warrant, an additional coach may be added.
Registration deadline is Friday, November 15, 2019.
Please register online: https://skatecanadapei.uplifterinc.com/pages/competitions-and-events/
Full page information - Future Champions 2019-2020.pdf
CANPOWERSKATE COACHING COURSE COMES TO PEI
posted May 28, 2019, 2:34 PM
Skate Canada has released a revised CanPowerSkate coaching course that is now part of the National Coaching Certification Program (NCCP) through Coaches Association of Canada.
PEI is proud to be hosting this course on September 7 & 8, 2019 at the Pownal Sports Centre from 8am-4:30pm both days.
Registration is limited so don't wait to register as there has been many inquiries about this course opportunity. The cost is $300 and you must register online.
Poster will all information: 2019 CPS course
Registration issues, please contact Kristen at skatecanadapei@gmail.com
CANSKATE COACHING COURSE COMING TO PEI
posted Apr 18, 2019, 10:00 AM
Skate Canada PEI section will be hosting the CanSkate Coach course from August 3-5, 2019 at the Pownal Sports Centre.
The fee is $380.00 (late registrations $425)
Registration deadline is July 14, 2019.
For pre-requisites and more information please open this poster: CanSkate Coach course

INTERESTED IN BECOMING A REGIONAL CERTIFIED COACH?
posted Apr 12, 2019, 10:37 AM
Skate Canada Nova Scotia is hosting the 3-day Regional Coaching course from May 18-20, 2019 in Cole Harbour. Registration deadline is May 3rd.
2019 SECTION BANQUET
posted Apr 9, 2019, 3:02 PM
The 2019 Skate Canada PEI Banquet is quickly approaching! We hope you are able to join us at the Annual Awards Banquet on Saturday, May 4 at Rodd Royalty, Charlottetown.
Congratulations to all who received a nomination this year; we look forward to celebrating your achievements and time in our sport!
Please complete the online process if you are able to attend. We need all nominees and guests registered online by Friday, April 19, 2019.
Meal for the nominee is complimentary. Should any guests wish to attend they must RSVP and register online. Tickets are $25.00 each.
Pre-registration for the Awards Banquet is mandatory to ensure meal arrangements are confirmed for catering deadlines. Thank you for understanding.
INTERESTED IN BECOMING A CANSKATE COACH?
posted Apr 1, 2019, 8:31 AM
Skate New Brunswick is hosting the 3-day CanSkate Coaching course from May 18-20, 2019 in Bouctouche. Registration deadline is May 3rd. For registration information click here
Skate Canada PEI will be hosting the same course in Charlottetown, from August 3-5, 2019 (tentative). More information coming soon.
SKATE CANADA PEI VESTS AND JACKETS AVAILABLE NOW!
posted Feb 18, 2019, 1:37 PM
Skate Canada PEI will be taking orders for branded black jackets (youth & adult sizes) and black vests (adult sizes) until March 7, 2019.
Opportunities to try some sizes will be available at the ADL competition, February 23 (Kensington) from 11am-12:30pm and at the Synchronized Skating Competition, March 3 (Summerside) - time TBC.
VESTS: available in adult sizing only (not youth sizes) and are $55.00 each

JACKETS: available in youth and adult sizes and are $85.00 each

Orders and payment must be received by Thursday, March 7th through an online account (cheques are accepted).
For more information, please view the poster
2019 ADL SCHEDULE NOW AVAILABLE
posted Feb 15, 2019, 7:03 AM
2019 ADL Schedule is now available. Start Orders will be posted shortly.

TEAM PEI FIGURE SKATING TEAM HEADING TO THE CANADA WINTER GAMES
posted Jan 16, 2019, 8:20 PM
Emma Hynes from the Summerside Skating Club and Katie Stavert-Bernard of Kensington and Area Figure Skating Club earned their Canada Winter Games Team PEI spots based on their results at Skate Canada Sectionals held in early November 2018 in Amherst. They are both entered in Pre-Novice Women category. The team alternate is Kaitlyn Smith, also of Summerside Club.
Hynes was the lone PEI entry in Pre-Novice Women at the national 2018 Challenge event held in early December in Edmonton. With close to 60 skaters competing in her event, it was a great opportunity to test her skills against Canada's top skaters in her age and skill level. In the long program, Hynes had a solid skate with no major deductions for a total of 36.56, exceeding her score from 2018 Fall Skate in Bathurst and just 4 points short of her personal best.
These Team PEI members have attended monthly training days on the Island as well as events, including a National Performance Seminar in Amherst and will soon attend the Robert McCall Memorial Competition in Dartmouth Nova Scotia the first weekend of February.

They will be joined by coaches Krista MacKay and Cindy Stavert, with Team Manager Elizabeth MacKay.
Good luck ladies and enjoy Week 2 of the Canada Winter Games!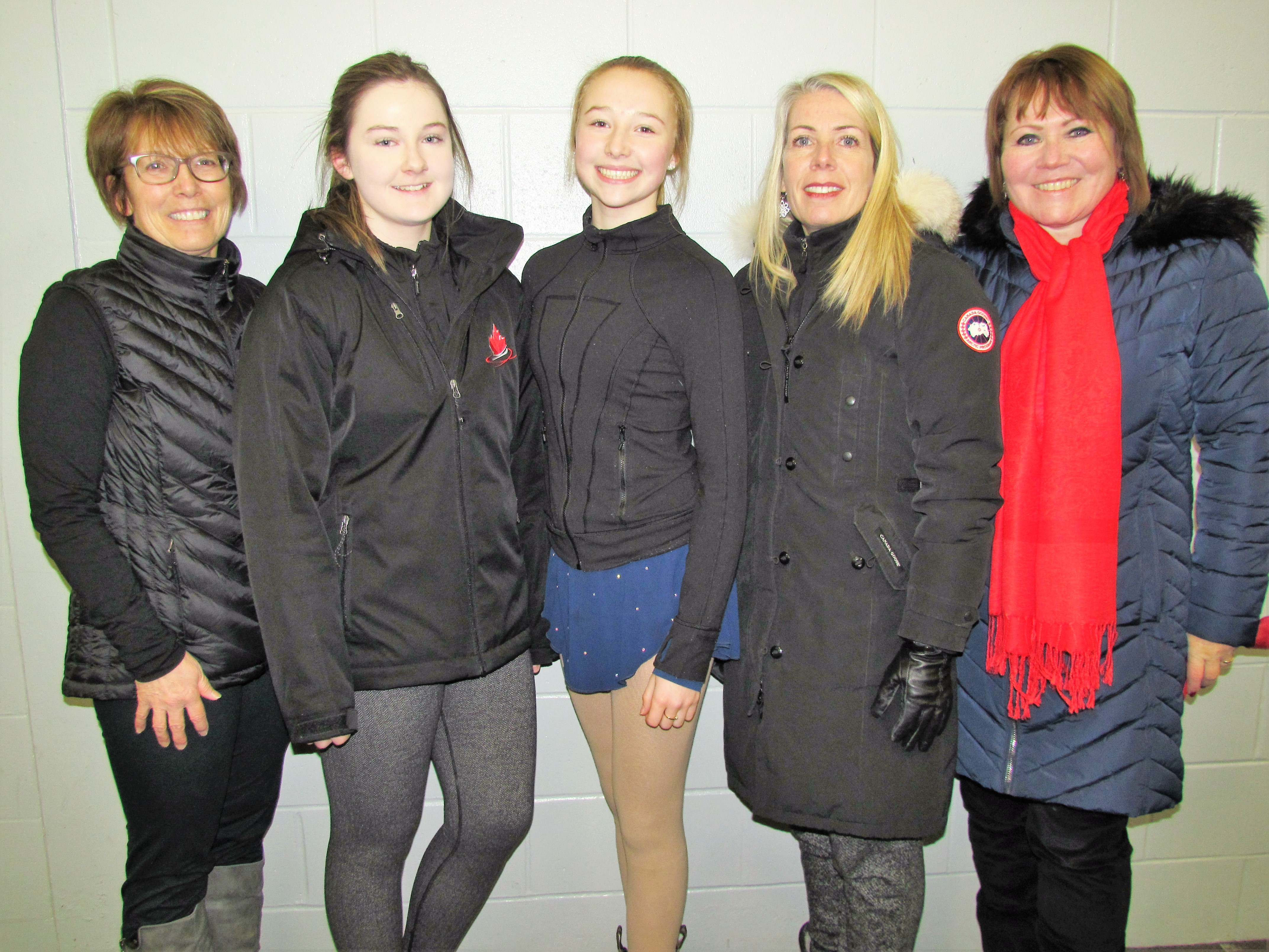 L-R: Cindy, Emma, Katie, Krista, Elizabeth