2022 Awards Banquet
Loyalist Inn and Conference Center - Summerside
Volunteer Coach Award - Marlee Rae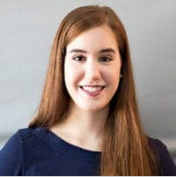 Marlee is a constant positive light at the Summerside skating club and beyond. She dedicates 10-15 hours a week as a volunteer coach not only coaching CANSkate, but Star Skaters and the two Summerside Synchro Teams where she is the assistant coach.
She is a knowledgeable coach who has an attention for detail that the kids respond well to. Not only does she spend hours on ice coaching but she extends it to off ice. Assisting with programs for the 2022 season showcase for the Star 1 skaters. She assists at the board level where she is the Synchro Chair. She altered the dresses for the elementary team, ensuring the teams are registered and managed correctly. She also takes the lead on the fundraising committee and ensuring everything comes together in perfect unity. Lastly, but certainly not least she volunteered her time to the element day and other programming without any hesitation.
Section Volunteer Award - Jennifer Nelson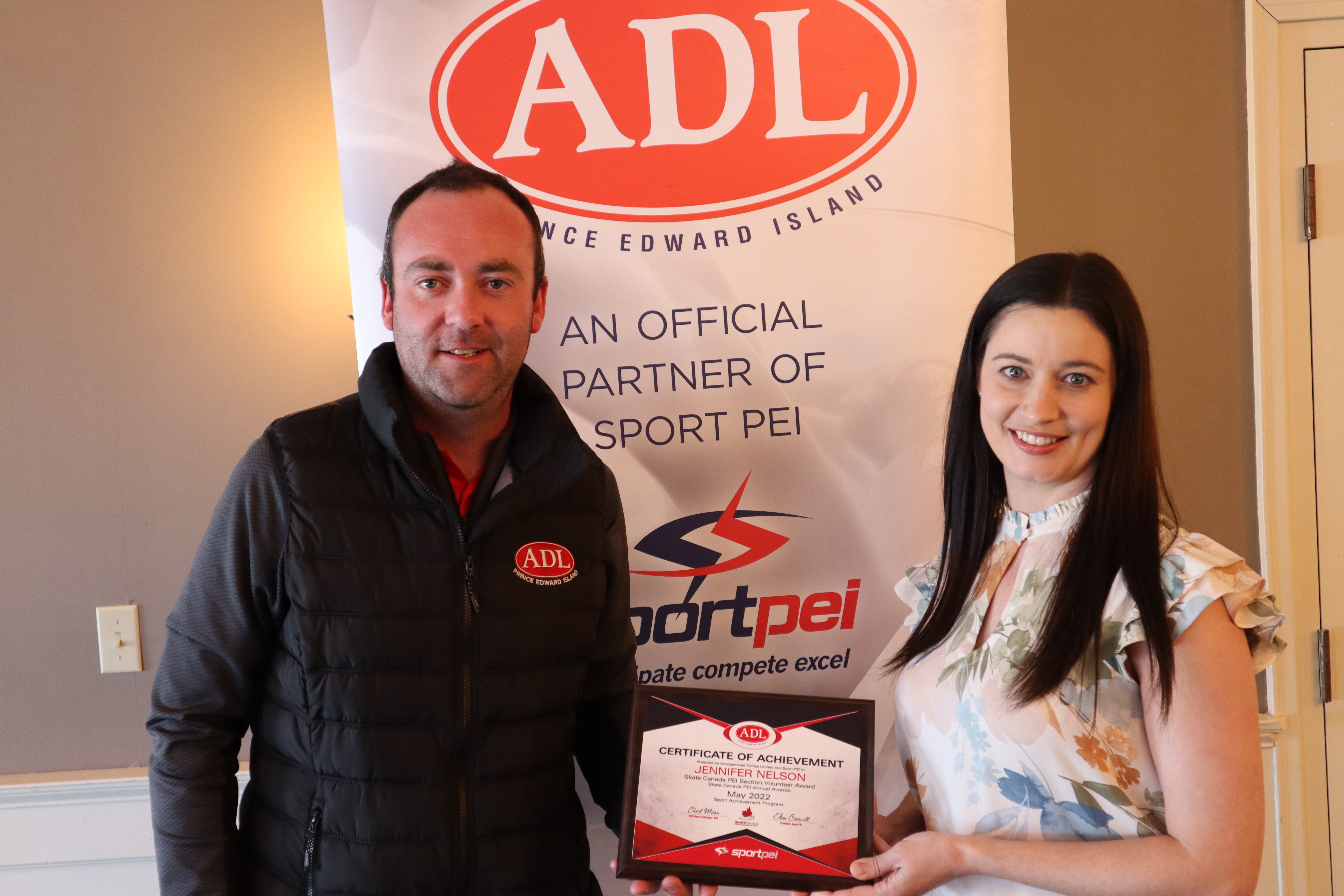 Jenn is a long time, devoted volunteer with the Kensington Skate Club, and understands the inner workings of our club better than anyone! Jenn has been involved with the club since she herself skated, and both her daughters are active members of the club today.
She is a Program Assistant, and is their Vice President and Registrar. Jenn's drive, passion, and determination ensures that registration runs smoothly, and that the club's registration drive is a success. Jenn always goes the extra mile and takes on many added responsibilities within the club. She can be found at the rink running high-test day, organizing dress show costumes, decorating, and hanging props, collecting registrations for ADL and Star Skate, organizing the PA thank you gifts & celebrations, and ensuring every detail with the show program is complete. She is the person we all go to with questions and for seasoned advice
Section Program Assistant Award - Gracelyn Paugh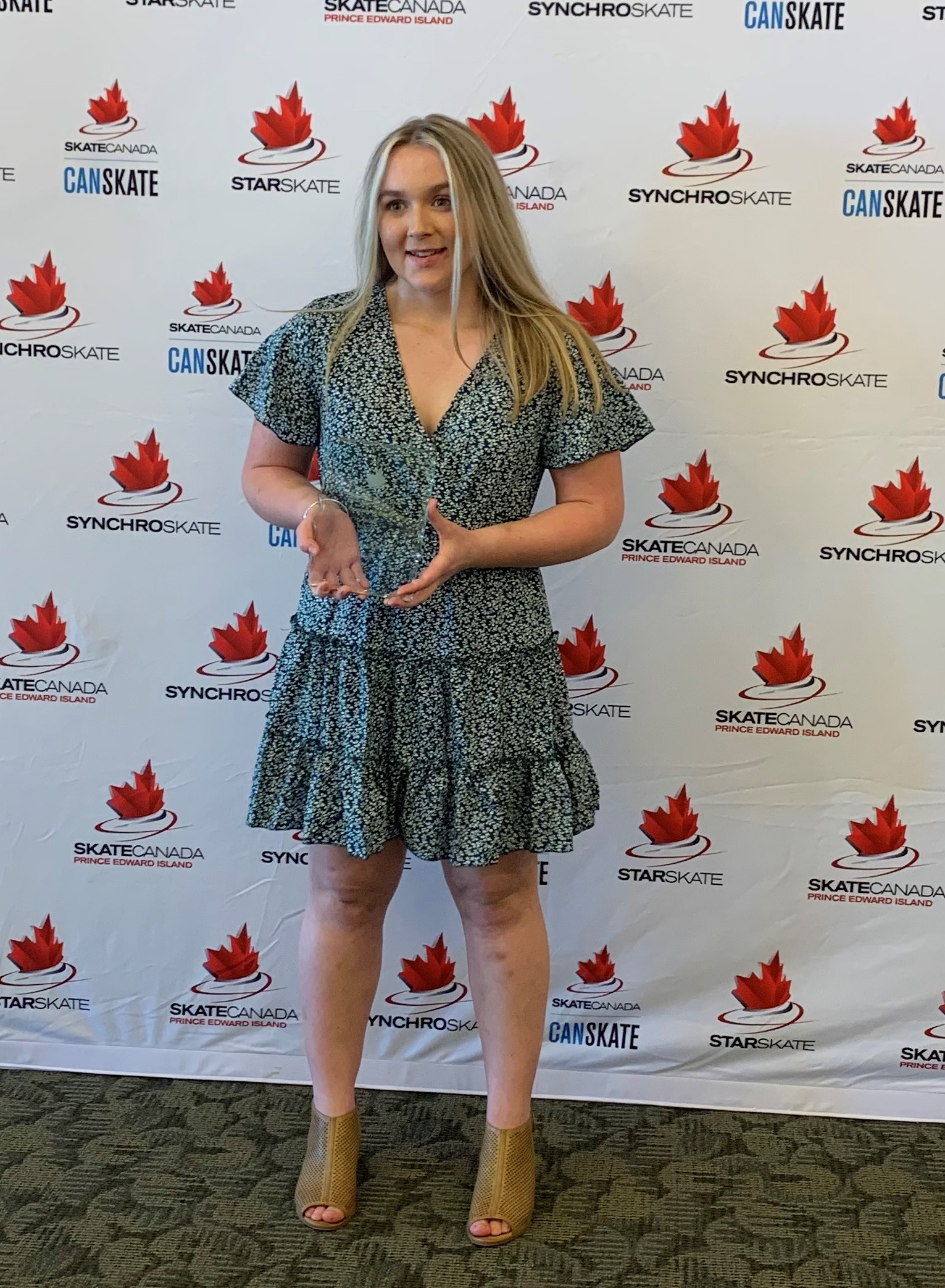 She is a very dedicated, reliable, and responsible program assistant who goes beyond of what is requested of her by her coach. She will program assist for both canskate groups beyond the general expectation of the club coach.
She is a positive role model for younger star skaters and canskaters in her club, who look up to her as a dedicated and responsible leader and skilled skater. She is a beautiful skater who is a great team player. Younger skaters look to her for guidance and advice. In particular, her two younger twin sisters admire her ability on the ice and always take note of her superior skill. She has a quiet and hardworking approach to life. She is resilient and demonstrates true grit.
She took the courses last fall to become a CanSkate coach in Training and intends on completing her training by next year to become a fully certified CanSkate Coach. Once she is fully certified she intends to continue coaching long after she graduates high school.
CanSkate Athlete Award - Hannah Heyman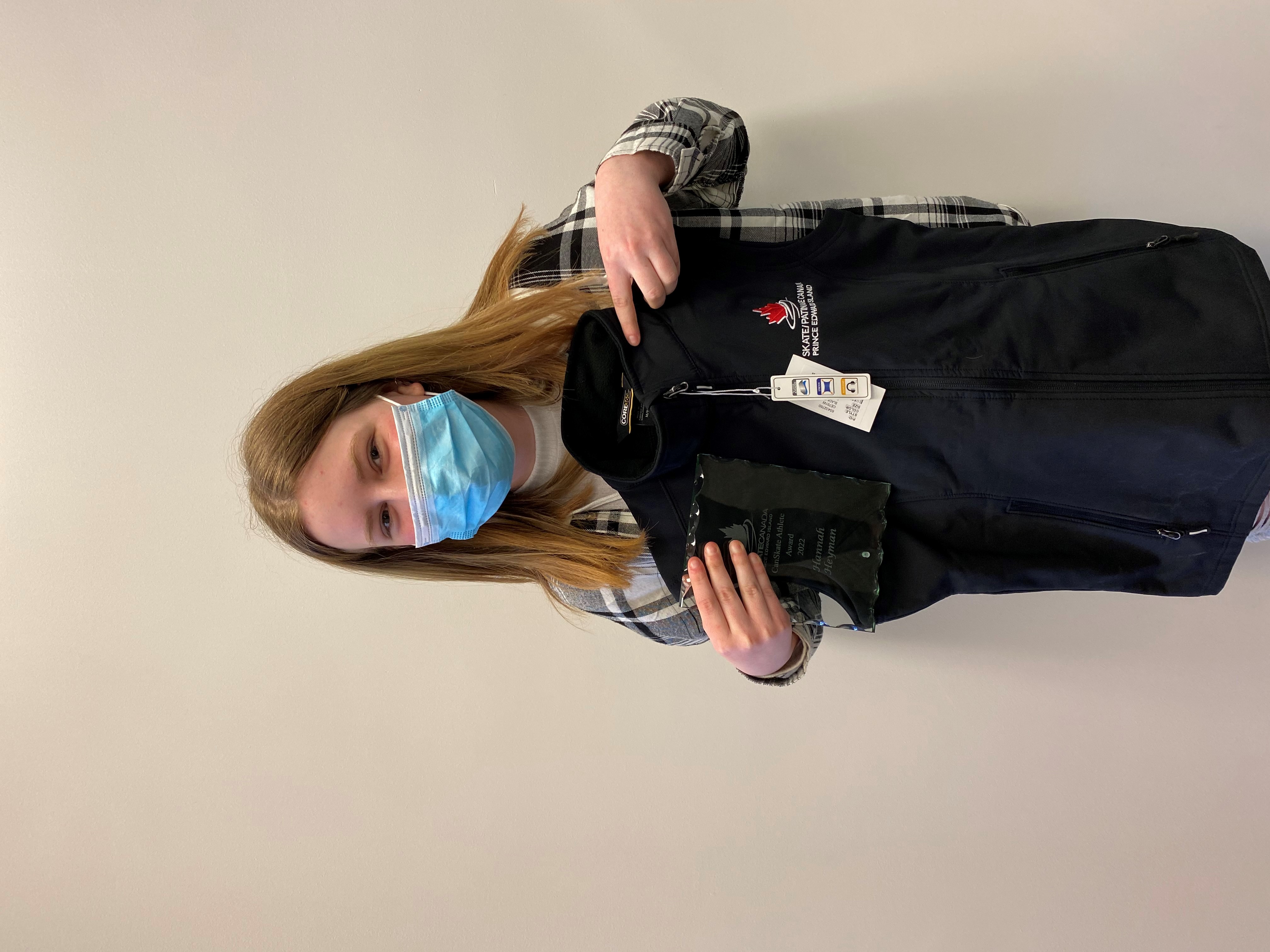 Hannah is a new skater to the Summerside club for the 2021/2022 season. She is also a newcomer to Canada and her whole family including her mom has registered with the club for lessons. We are happy to have all of them as members, but the star of the show is Hannah.
She has passed from her initial assessment in stage 2 right to stage 5. She is dedicated, works hard and you can tell she has talent! She can take all kinds of feedback and turn that feedback into action. Always smiling and helping her younger siblings. She tries her hardest and has done incredible considering her first time one the ice was fall 2021!
.
Section Officials Award - Cindy Ramsay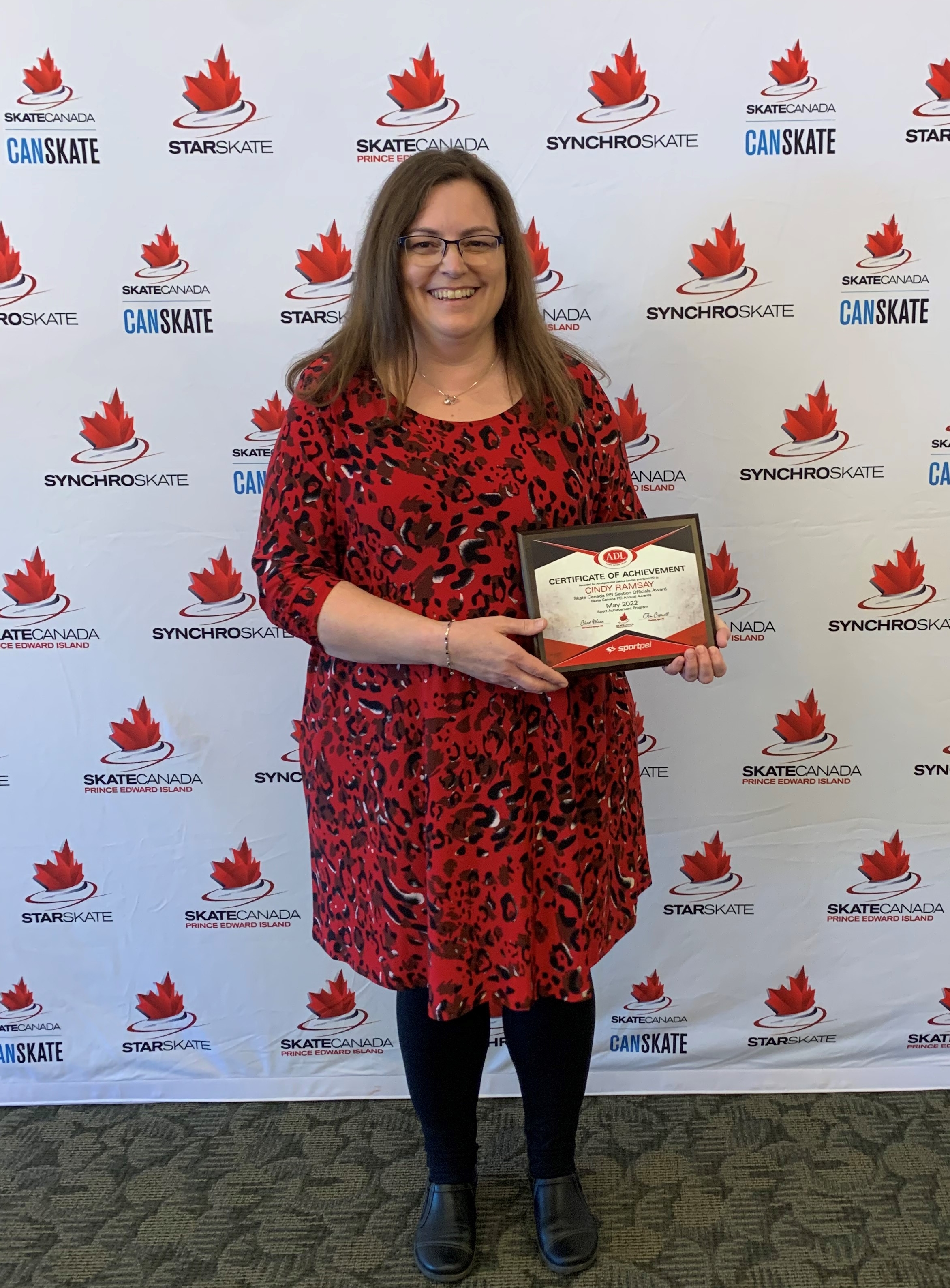 Cindy has been an active volunteer for many years and on several different levels. She has been a data specialist since the 2008-2009 season. She is the date specialist chair on Section since 2011-2012 season. Previous to this she volunteered on the Kensington and Area Figure Skating Club executive as treasurer. Cindy was the chief data specialist at the 2022 ADL, STARskate Competition & Provincial Synchro Competition in April 2022. Cindy has been an active data specialist on PEI for many years. Since taking on this role she has volunteered at competitions in NB and NS. She has served on many committees within section - strategic planning group, provincial funding group, and STAR pilot. She has contributed at the National level with data specialists and on a number of committees. She is presently working with a group on the new CSS scoring system.
Cindy is also on the 2023 Canada Games Sport Committee. She clearly loves skating and volunteering so combining the two is a perfect fit. She has a love for the work and for meeting new people.
Skater Recognition Award - Kaitlyn Smith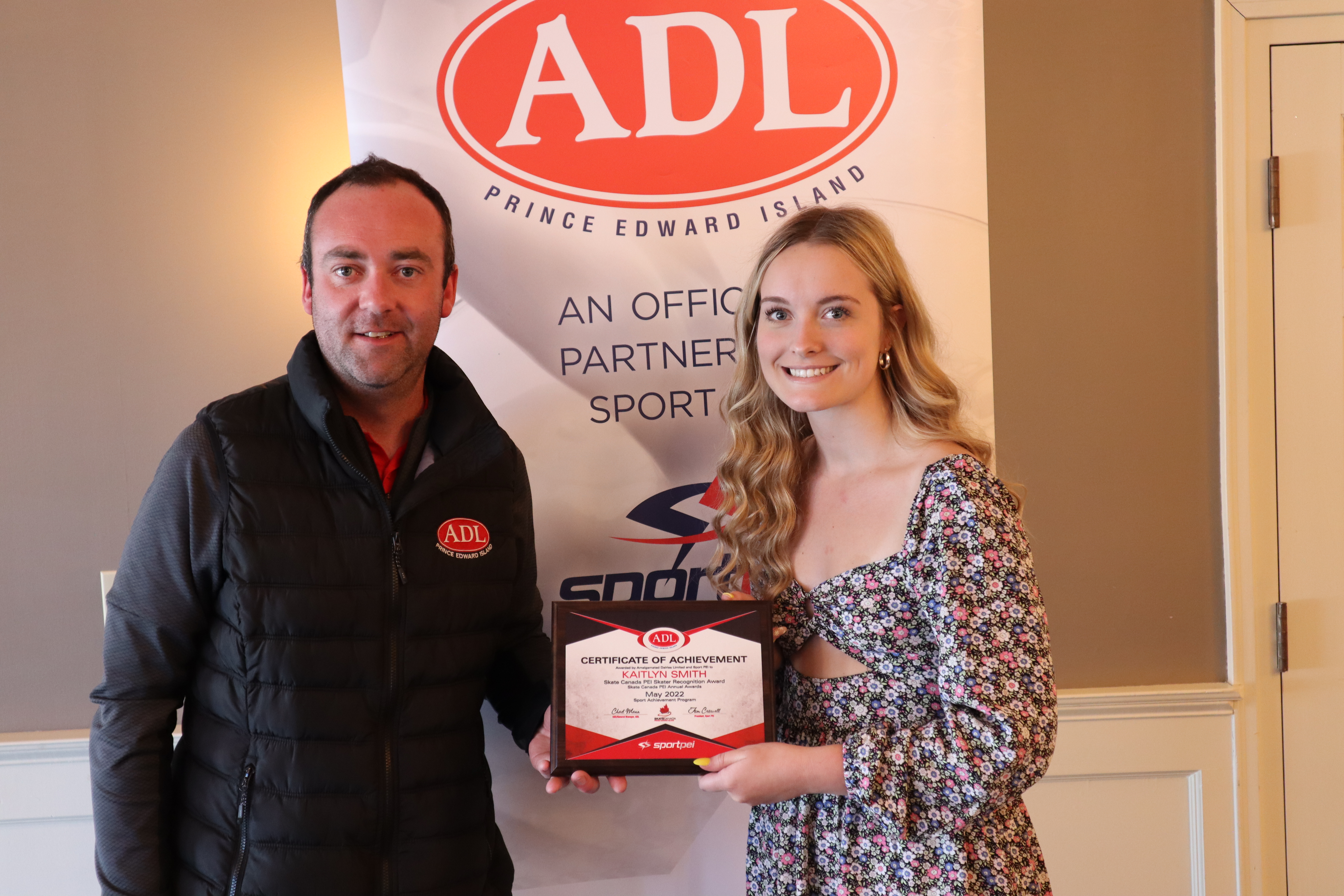 Kaitlyn is an extremely hardworking, dedicated and determined skater. She shows dedication by not only skating in Summerside but regularly skating in Kensington. She shows hardwork by completing her gold free skate skills, interpretive and dance. She is determined by becoming a regional certified coach before she graduates high school.
But there is so much more to this skater to recognize:
-Volunteers her time by putting off-ice sessions for the Star 1-3
-Coaches summer soccer and is an advocate for skating by speaking extremely positive about the skating sport to the members
-She won the Competitive athlete of the year 2020
-She volunteers with the Summerside club regularly -She is positive and a bright face to have in the room
-You can tell she loves this sport from the inside out!
STARSkate Athlete Award - Katie Stavert-Bernard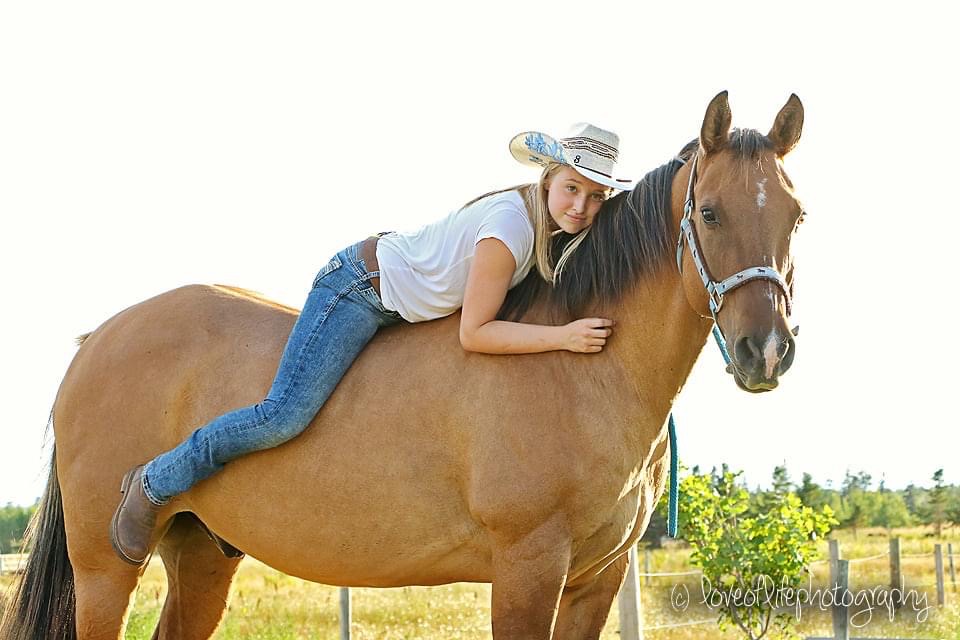 Katie has been skating since she could walk, and has loved every minute of the fifteen years since then. Katie is a rugby player, she's student council president, and she holds a 90% average in her grade 12 academic courses.
Katie recently passed the last test Skate Canada could offer her - the Diamond dance, The Yankee Polka. Of course, the highlight of her skating career would have to be competing at the 2019 Canada Games, in Red Deer, Alberta. Katie is a Certified Canskate Coach, and has been working with our skaters in Kensington this past season.
She is so very talented, dedicated, well-rounded, and well-loved by all those she teaches.
Debbie MacMurdo Leadership Bursary winner - Gabrielle Samson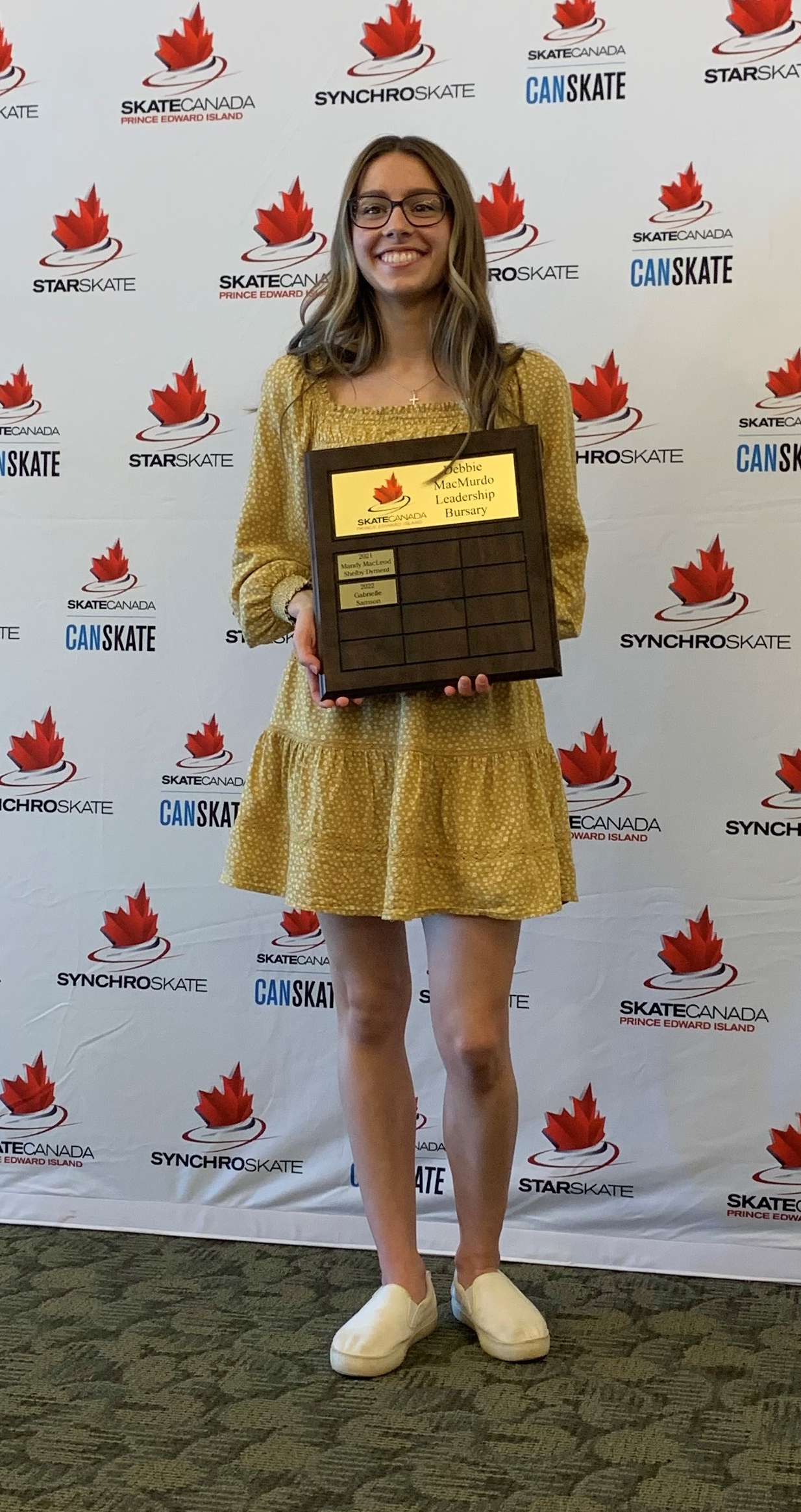 Gabrielle is a dedicated volunteer at her school – helping with fundraisers, setting up graduation ceremonies, serving food during special occasions and tutoring anyone who may need some extra help. She is great at helping teachers during school outings without being asked - by doing so she showed great leadership skills.
At school, Gabrielle has been a big part of the theater program for the last six years. As the artistic director, she shows leadership and initiative by, not only learning her lines, lyrics, choreography but also by creating props, backdrops and helping n newcomers to do the same. She is eager to give her time and talent to make their musicals a success.
In Gabrielle's words "Being a Program Assistant has taught me how to talk to children, be patient and make them smile. All these skills have been very useful in my various endeavours including volunteering, working at a summer camp and t teaching catechism. Skating has always been a huge part of my life and my story. My experience as a Program Assistant has also allowed me to realize that I want to work with children. To me, skating is a way to exercise that makes me feel good, but it is also my favorite way to express my creative side and try new things. My time in skating has been one of the most rewarding experiences, and I am very thankful for it. "
Gold Accomplishments: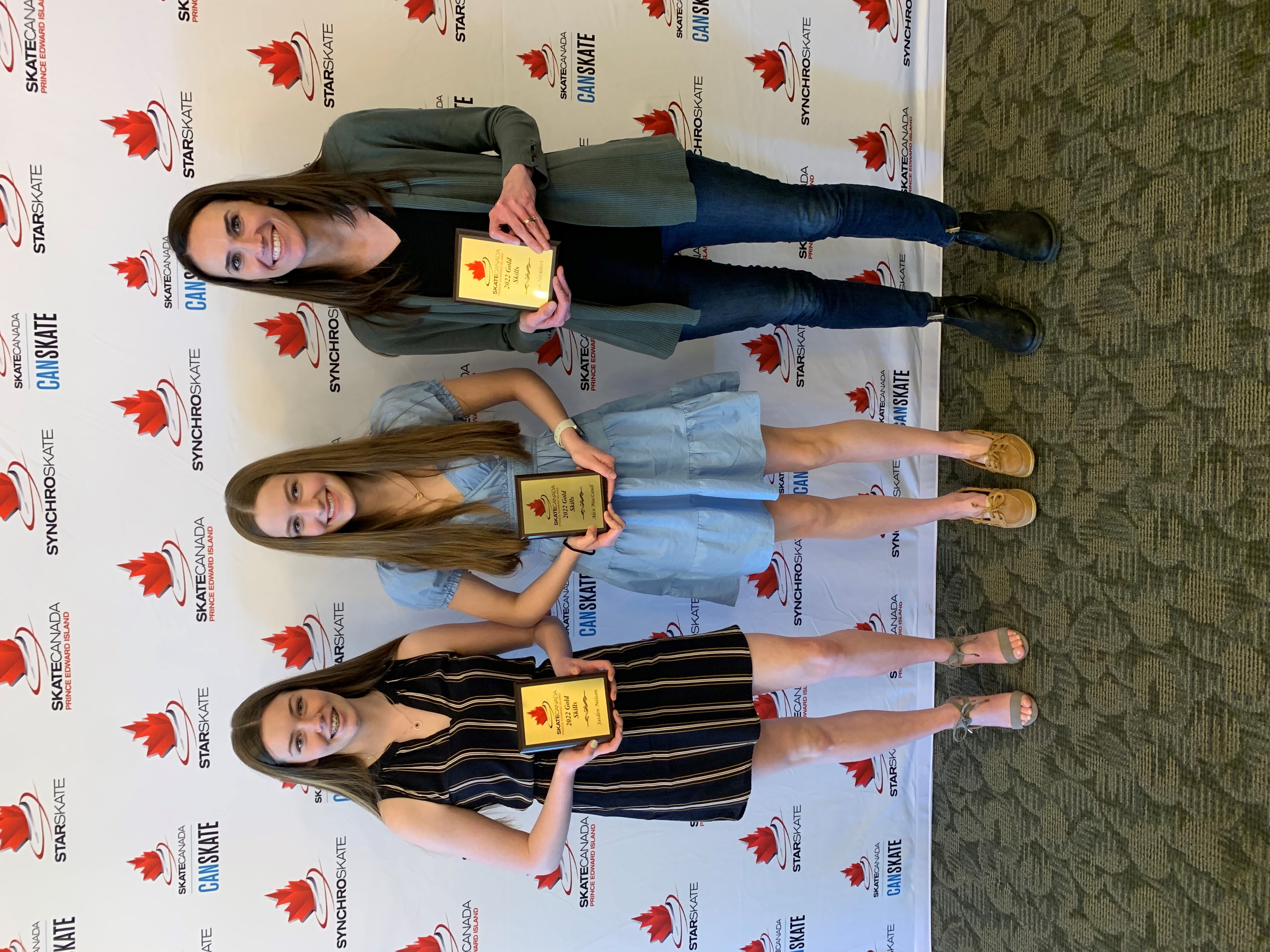 Skills: (Left to right - Jaiden Nelson, Alex MacCaull, Gina Awalt)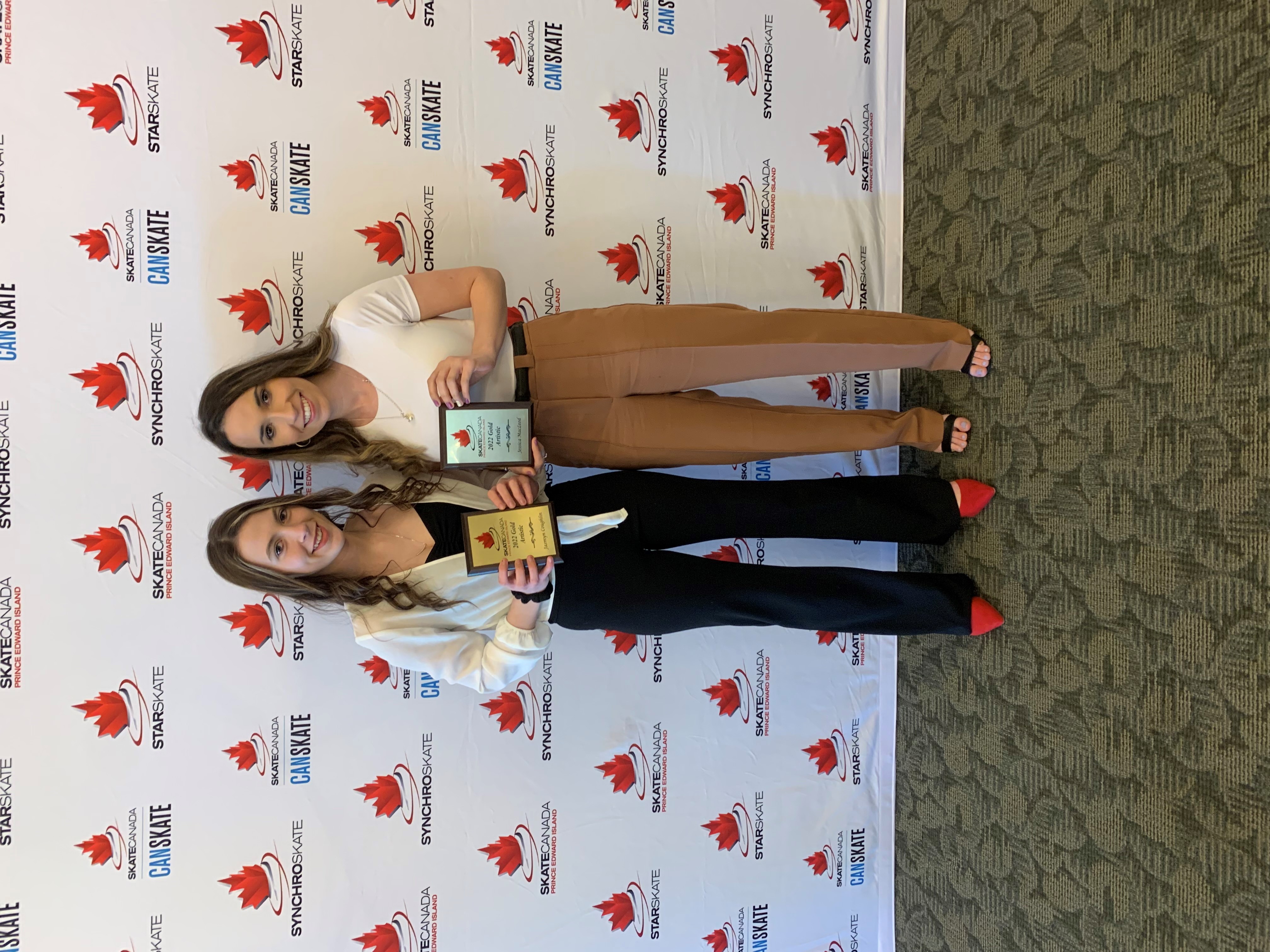 Artistic: (Left to right - Jasmyn Coughlin, Jessica MacLeod)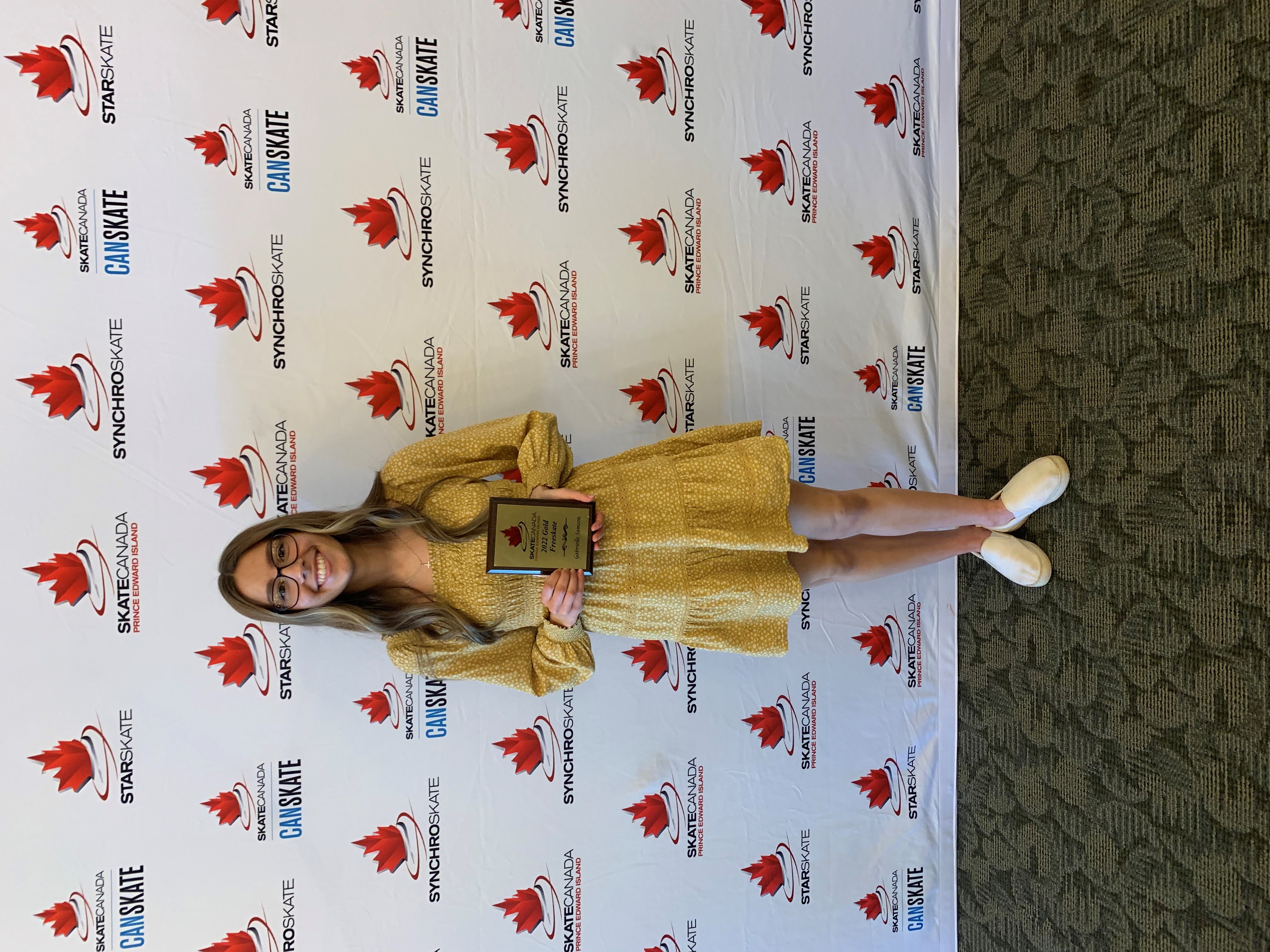 FreeSkate: Gabrielle Samson
Most Club Points at STARSkate
*Charlottetown*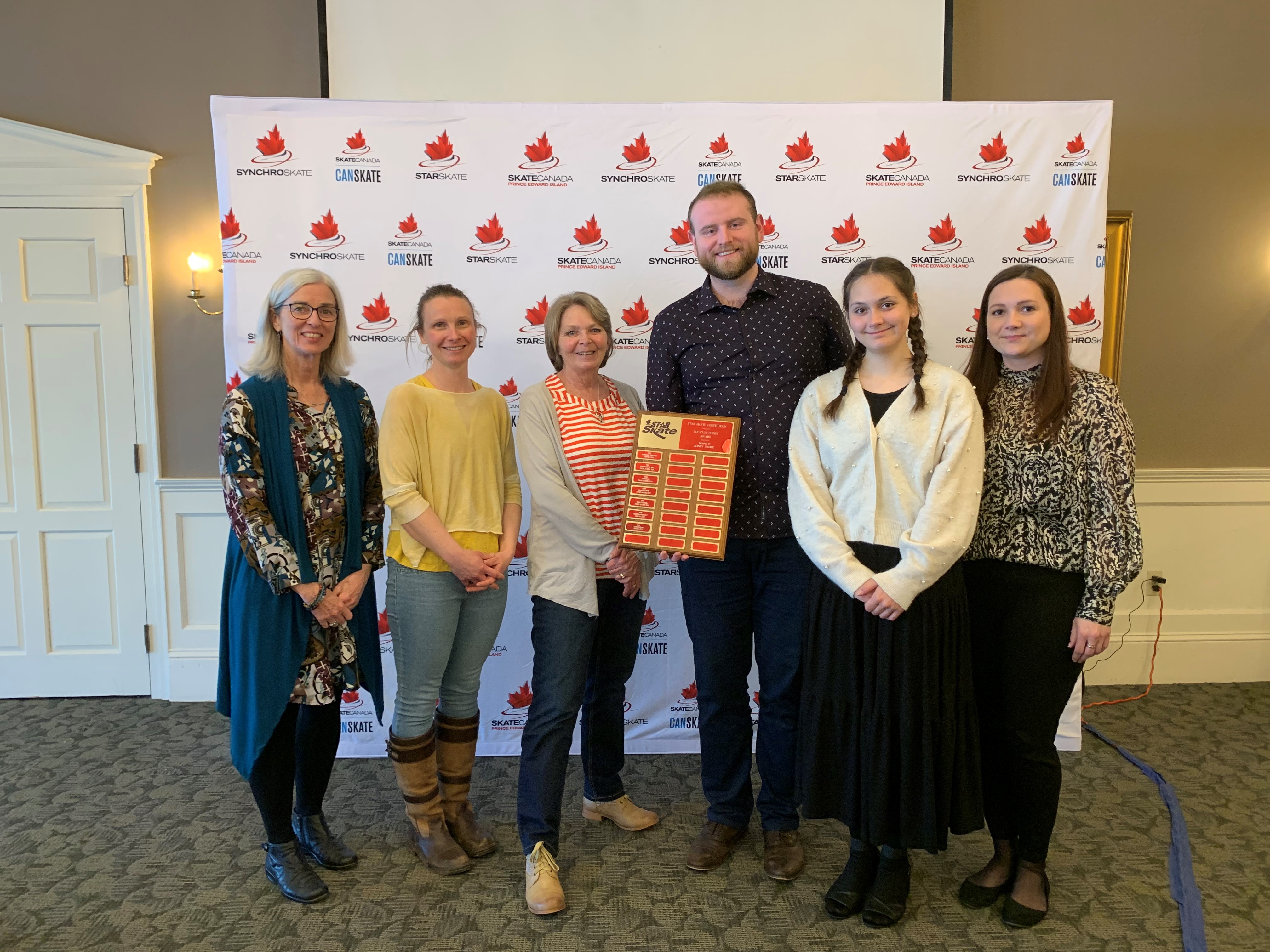 Additional photos from the day!